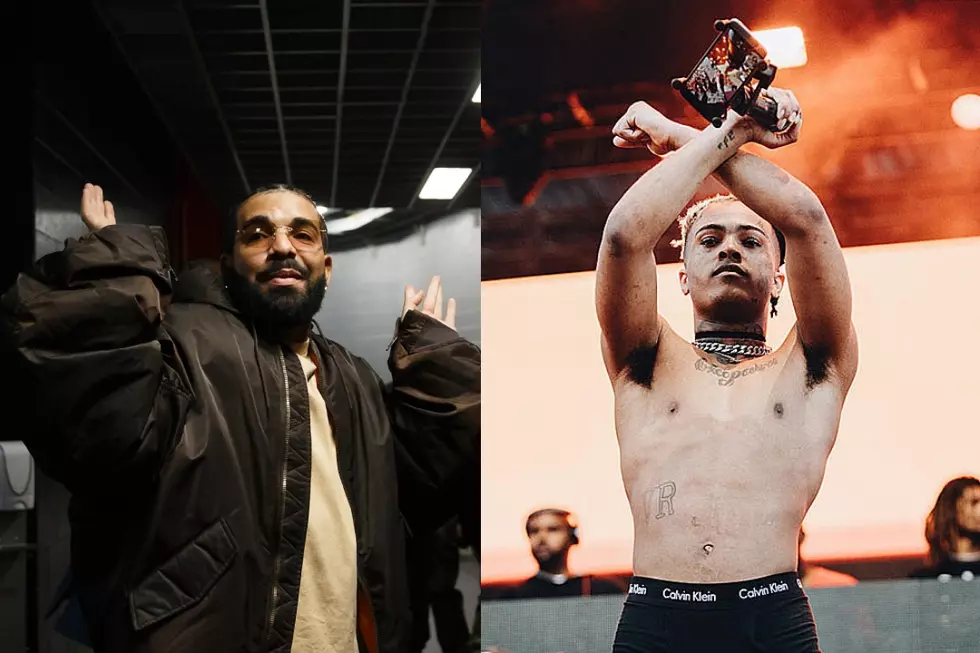 Drake Ordered to Sit for Deposition in XXXTentacion Murder Trial
Cole Burston/Jerry Carnation/Getty Images (2)
Drake has been ordered to sit for a deposition in the XXXTentacion murder trial, after one of the suspect's attorneys successfully argued Aubrey needs to come in for questioning concerning his possible involvement in the case.
Testimony in the trial for three of the four men accused of being involved in XXXTentacion's death started on Tuesday (Feb. 7). After weeks of attempts by suspect Dedrick Williams' attorney Mauricio Padilla to get Drake to be questioned in the case, on Tuesday (Feb. 8), court documents were filed in Broward County Court that show Judge Michael Usan has signed off on an order that states Drake must come in to be deposed. According to court documents obtained by XXL on Friday (Feb. 10), Drake was supposed to sit for a deposition on Jan. 27 but failed to so do. As a result, Judge Usan has agreed he should do so or else.
"As a result of Aubrey Graham's failure to appear for deposition on Jan. 27, 2023, Aubrey Drake Graham shall appear for deposition on Friday, Feb. 24 2023 via Zoom video link," the court order reads.
If Drake does not show up for the deposition, he could be held in contempt of court.
"If deponent Aubrey Drake Graham does not appear to deposition he must appear before this court on Monday, Feb. 27, 2023 at 10 EST at so the court can determine why he should not be held in contempt," the court order continues.
Padilla has argued for weeks that Drake and other rappers should testify as witnesses in the XXXTentacion murder trial, citing Drake's beef with XXXTentacion as a possible cause for X's murder. Previously, he'd been unsuccessful in subpoenaing the rap megastar and other rappers to show up in court. His arguments of Drake's involvement include XXXTentacion's beef with Drake after X was angered over Drake biting his flow from his breakout track "Look at Me!" on the Drake song "KMT."  Months before X's death, a cryptic post surfaced on the South Florida rapper's social media that read: "If anyone tries to kill me it was [Drake]." Padilla also cited lyrics from Drake's Her Loss album.
"They are high-profile people. And it's not easy for me to subpoena," Padilla told Broward Circuit Judge Michael Usan last month. "I don't have numbers, but it doesn't mean I won't be able to. Trying to subpoena Drake is not easy—you need a drone."
Prosecutor Pascale Achille filed a motion against the attempt to get Drake to testify.
"It is apparent from the deliberate, late disclosure of the defendant's witnesses and comments made between the parties that [the] defendant intended to 'surprise' the state and create a trial by ambush," she countered.
In court on Tuesday, Padilla stated his case again, finally getting the judge to sign off on the controversial move.
XXL has reached out to Drake's team for comment.
Today is the fourth day of trial for XXXTentacion's accused killers Michael Boatwright, Dedrick Williams and Trayvon Newsome, who are accused of shooting and killing XXXTentacion during a robbery outside RIVA Motorsports in Deerfield Beach, Fla. on June 18, 2018. So far, the jury has heard testimony from X's step-uncle who was present in the car when the robbery took place. Jurors also heard a full confession from Robert Allen, the fourth man arrested in the case, who pleaded guilty last summer. As well as surveillance footage of XXXTentacion withdrawing $50,000 from the bank just hours before his death.
See Footage From the XXXTentacion Murder Trial Below
See Rappers We Lost in the 2010s