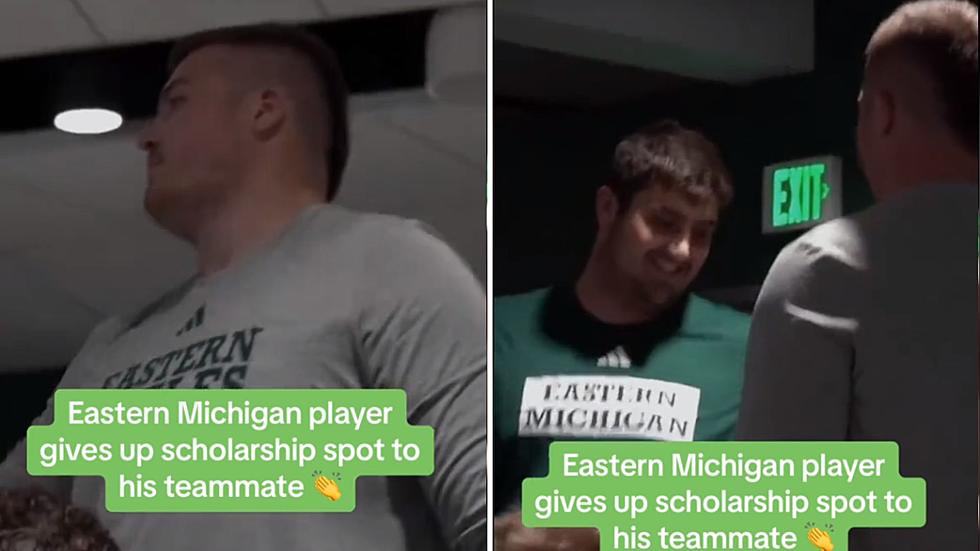 Eastern Michigan Football Player Gifts Teammate Scholarship
CollegeGameday TikTok
We are no strangers to the spectacle of college sports, especially college football. I don't think any of us can lie or act like football isn't the biggest and most lucrative sport for the NCAA and each of its participating schools. Hundreds of young men strap up their pads and represent their institution on the gridiron, but some aren't as lucky as others.
it's no secret to many of us how expensive college is but also that there are many ways to make that experience cheaper. One of those ways is an athletic scholarship but there are only so many scholarships available per academic team meaning they choose to use them to target the best of the best. Sometimes, a player may come in as a sign-on and earn a scholarship.
Zack Conti is an Eastern Michigan University Football player who has been working in the classroom, on the field, in the weight room, and even outside of that to play football and attend school. He's one of many football players who has to pay for his schooling in whatever way he can. Eventually, he had to turn to donating his plasma to afford his classes.
Meanwhile, his teammate Brian Dooley, who has a scholarship with the school was putting together a master plan. After discussing with his family, he walked into his coach's office and told him he'd like to give his scholarship to Conti because he earned it.
In the TikTok video above you can see Coach Chris Creighton explain the situation to the team and then Brian and Zack embrace in a hug that was quickly followed by a moshpit celebration from the rest of the team as Conti accepted the scholarship.
You don't see this kind of love often but this shows how sports bring people together and that there is still some hope and humility in the world. I'd be lying if I said I didn't almost shed a tear and I'm sure you almost did too.
11 Famous Eastern Michigan University Alumni & Their Net Worth
Eastern Michigan University has produced a lot of famous people. Check out the net worth of 11 EMU alumni here.
18 Notable Eastern Michigan University Alumni You May Recognize
Eastern Michigan University's alumni come in many different forms. From athletes to comedians and judges to serial killers. Check out these notable EMU alumni.