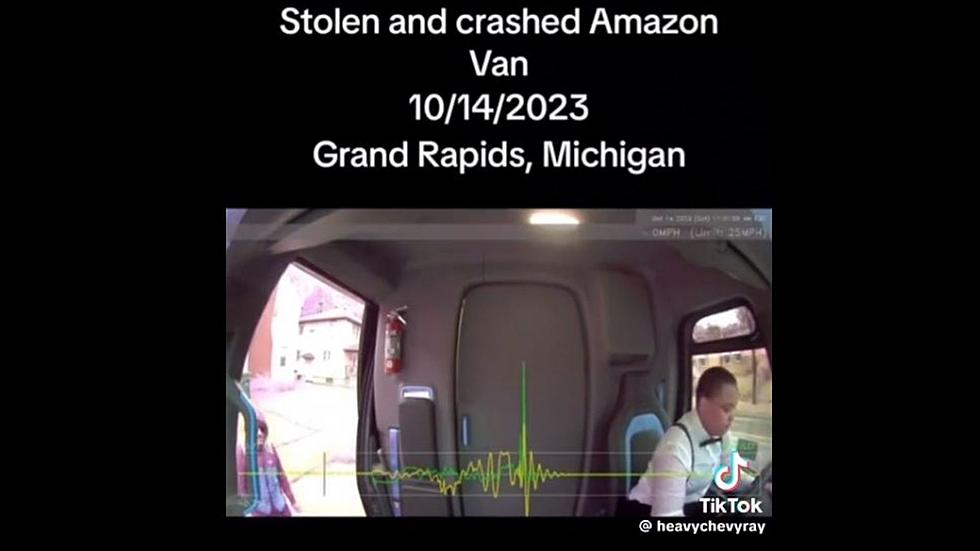 Grand Rapids Boy Steals and Crashes Amazon Delivery Van
Russ Ham Facebook
Amazon can be one of the businesses to say that they helped start the online shopping model and have helped it flourish into the huge entity that it is today. Now you can search just about any retailer big or small and be able to place orders through their website and have the product delivered to your door. This has made shopping less of an activity as you can conveniently do so from your couch now.
There are a few problems with online shopping just like there is with anything else in the world. You may receive the wrong size or product and then will have to go through the online return process, there are porch pirates who will steal your packages, Amazon or other delivery services may loses your package, or worse. Some people in Grand Rapids found this out the hard way earlier this week.
One of the biggest liabilities that any Amazon delivery driver is the actual vehicle itself, there are countless packages with not only sensitive information but thousands of dollars of products. Also, those vans are not cheap so that's another cost plus your life is worth something as well. So which one is most important?
According to Amazon, your life is most important as drivers are taught to not intervene with a potential thief but instead let them take the packages and/or vehicle because both of those things are insured by the company. In the video below that's exactly what we see happening.
A young boy hops into a parked but running Amazon delivery van and proceeds to throw it into gear and take off down the road. The Amazon delivery driver is seen standing outside the door as the van pulls off. The boy doesn't get far before having to press Y and eject from the car, rolling into the street. He didn't have a seatbelt on so this may have saved his life.
Many people were without their packages and tons more lost their power as the boy took the van for a ghost ride right into a telephone pole. What's worse is this was one of the telephone poles that had a transformer on it and he smashed it, blowing everyone's power out for blocks.
Help Clear the Lists—See Amazon Wish Lists for Mid-Michigan Teachers
If you have it in your heart and wallet to help Mid-Michigan teachers and buy some items from their Amazon Wish Lists, please check out the gallery below and pick a teacher to help out. All the pictures are linked to the Wish Lists. *This list will continue to be updated. Check back for additional teachers and updates.*
Gallery Credit: Kristen Matthews
10 Amazon Products to Keep Your Pet Cozy this Fall
These are ten products you can buy on Amazon that will keep your pet cozy this fall.
Inside Amazon: A Detailed History of America's Biggest Online Retailer
Stacker
compiled a list of key moments in Amazon's history and its current business from a variety of sources. Here's a look at the events that turned an online bookstore into a global conglomerate and a self-made entrepreneur into the world's second-richest man.
Gallery Credit: Andrew Lisa