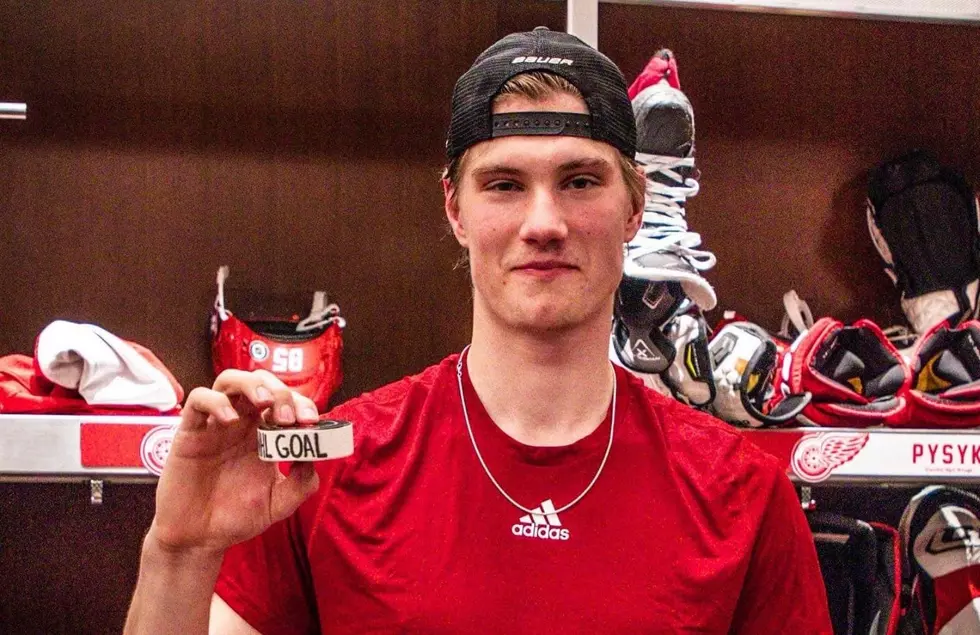 Video: Detroit Red Wings Prospect Elmer Söderblom Scores In His NHL Debut
Credit: Detroit Red Wings via Facebook
It looks like Detroit Red Wings prospect Elmer Söderblom might be sticking around for a while after making his NHL Debut at Little Caesars Arena and scoring a goal as the Red Wings shut out the Canadians 3-0.
Elmer Söderblom had an unforgettable NHL Debut as the Red Wings took on the Montreal Canadiens at Little Caesars Arena. Elmer's parents who live in Sweden made the nearly 9-hour flight to Detroit to watch him play. With the Red Wings up 1-0 in the early minutes of the 3rd period.
The Detroit Red Wings shared a picture of Elmer Söderblom after the game at his locker holding up the puck with hockey tape around it that said "First Goal" on it.
How Tall Is Elmber Soderblom?
Elmer is a giant of a man standing 6' 8" without his skates on. For the Red Wings game against the Canadians, he played on one of the biggest lines in the NHL that I can remember, with center Michael Rasmussen who stands 6' 6"  and wing Oskar Sundqvist who is 6' 3". Throw on some hockey skates and Elmer stands around 7' on the ice.
Watch: Detroit Red Wings Rookie Elmer Soderblom Scores In His NHL Debut
Fast forward to the 5:10 mark to see the goal
The Hockey History of Detroit Red Wings Elmer Söderblom
Elmer Söderblom is a Swedish professional ice hockey left winger currently playing for the Detroit Red Wings of the National Hockey League. Söderblom was drafted 159th overall by the Red Wings in the 2019 NHL Entry Draft
Hopefully Elmer Soderblom can help the Red Wings win another Stanley Cup. Check out this look back on the 25th Anniversary of The Red Wings Stanley Cup Victory
The 1997 Red Wings broke 42 years of futility by winning the NHL's Stanley Cup on this day back in 1997, setting off furious celebrations in the Motor City