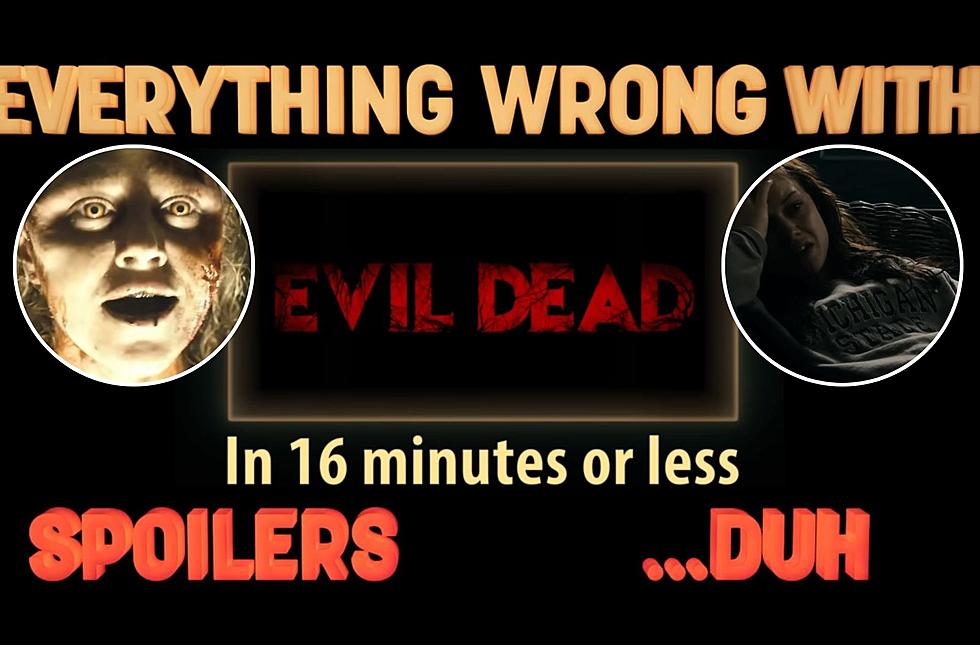 WATCH: CinemaSins Sins Michigan in "Evil Dead 2013″ Episode
Canva | CinemaSins on YouTube | MovieClips on YouTube
There's a new installment coming to the Evil Dead franchise with Evil Dead: Rise today. As the infamous YouTube channel is oft to do, CinemaSins released its latest episode on the 2013 re-make/hybrid sequel of Evil Dead. Of course, anyone immature as I am to actually watch this channel on a regular basis knows these "movie sins" are largely tongue-in-cheek for comedic effect for better or worse.
Oftentimes, Easter eggs (callbacks to original works that inspired the film) are quick to summon the almighty ding of a "Cinema Sin".
Of course, the Evil Dead franchise was born of the mind of Michigan native Sam Raimi, whose unique spin on horror inspires the genre a great deal leading to several Easter eggs in this remake of his original work. As a pseudo-sequel to the original films, there were bound to be some callbacks.
Early in the movie, the main protagonist, Mia, is introduced wearing a Michigan State University sweatshirt. CinemaSins promptly awards a sin to the movie for the mere mention of the school.
He then sins the car she is sitting on for simply being an Easter egg itself before backtracking to acknowledge the scene as a clear callback on its own.
"Yes, I know the Michigan State sweatshirt is technically an Easter egg as well, so I'll just sin it again. Happy?" *Ding*
In the original film, Ash and his four friends are all Michigan State students who vacation at a Tennessee cabin that turns out to host an evil presence. The location of the 2013 film isn't expressly revealed.
A bit later in the film, another character, Olivia, mentions the group had tried to help Mia break her addiction in Flint, Michigan, the summer before. CinemaSins didn't miss a chance to drag the Mitten State once again.
He gets in one final jab at one of Michigan's own, Bruce Campbell as his character Ash makes a post-credit scene to deliver his iconic one-liner.
CinemaSins says what we were all thinking a decade ago. "An end-credit scene is not as 'groovy' as Ash being in the actual movie."
*Ding* One final sin for the movie.
For those unaware, both Bruce Campbell and Sam Raimi were born in Royal Oak, Michigan, and were childhood friends. Campbell briefly attended Western Michigan while Raimi attended Michigan State. The original Evil Dead was the first featured film project for both talents.
Today, April 21, 2023, the Evil Dead franchise continues with the release of Evil Dead Rise. Raimi recently expressed interest in the continuation of the franchise which currently sits at five feature films and one television show.
Watch the full Evil Dead 2013 episode of CinemaSins below.
11 Celebrities Who Attended Western Michigan University
Michigan Celebrities First Jobs
Before they became famous they had regular jobs just like us.