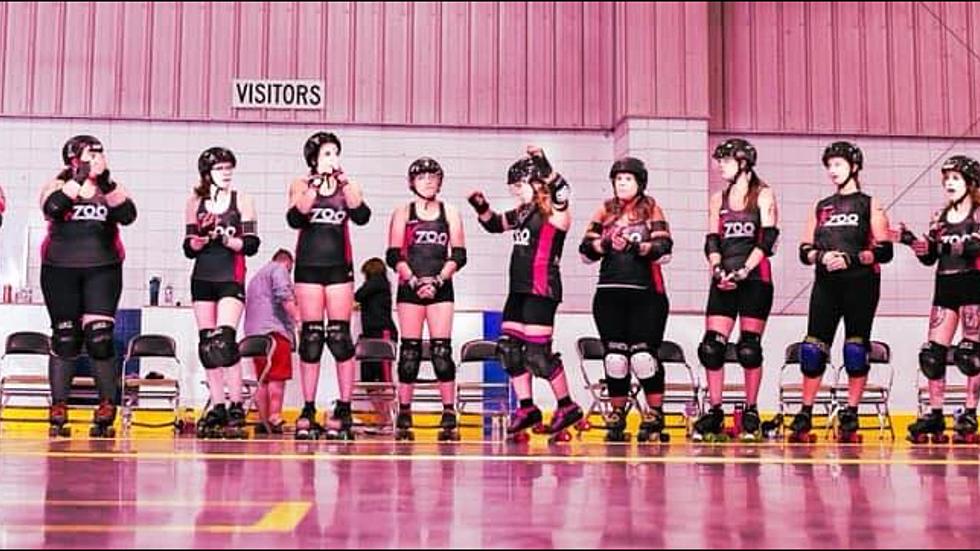 The Team You Didn't Know About: Kalamazoo's Roller Derby Team
Kalamazoo Roller Derby FaceBook
Kalamazoo has a ton of presence in the sports world when you think about the longtime Kalamazoo Wings, the old-time Kalamazoo Kings that are now the Kalamazoo Growlers, and even the newest team in town, the Kalamazoo Galaxy.
Within the last decade and a half a lot of "untraditional" sports have made their way into Kalamazoo and all of our hearts. The Kalamazoo Dart club, the Kalamazoo Disc Golf Club, and even the Kalamazoo Curling Club have grown in presence around the city. Now, there's another sport grabbing everyone's attention.
Roller Derby is a contact roller skating sport that involves fast-moving skaters and hard hits that get the crowd going. There are multiple timed two minutes jams that consist of 1 jammer and 4 blockers, the jammer receives points for every blocker they lap, and there are also penalties and powerplays to create disadvantages to help make scoring easier.
Kalamazoo has gotten in on the fun as well as the Kalamazoo Roller Derby team was put together in 2006 and has gained consistent traction since then. They are a nonprofit team that accepts skaters of all genders to participate and try out with them, they also elect board members annually.
The season started for them on March 11th and will go through October as they have at least 1 bout a month. Their home rink is technically in Paw Paw as they practice and hold home events at the performance fieldhouse. The team has gotten so big that they have split into two smaller teams that compete against other teams.
The Kalamazoo Roller Derby Team consists of both the Kill Stars which are known as the A team and the Killa Crew which is known as the B team with the A team having 15 skaters and the B team having 16.
Each player has a unique number that could range from a single-digit number like 1 to a 4-digit number like 1039, they also all have Derby names which are some of the coolest names I've ever seen. You can't tell me being called Blue Eyed Bruiser, Jawbreaker Jose, or Chewbackoff isn't one of the greatest things in sports.
Remembering Starburst Roller Skating Rink in Clifton Park
Talk about a flashback! Starburst Roller Skating Rink in Clifton Park opened circa 1980. It was located about three miles west of Northway Exit 9. Back in the 80's, it was ground zero for after school parties, birthday celebrations and group outings.
I specifically remember skating to Starship's 'We Built This City' when I was a kid. I also won a copy of Simple Minds 'Alive and Kicking' on 45 - which still may be hidden away in some crawl space at my childhood home.
You would enter through the front doors, all the lights would be on, so no vibe would set in until it was officially time to hit the rink. You'd get your locker token, then get your skates. Lock up your personal belongings in the tiny lockers and you'd be ready to rock the rink. The lights would go out, the music would play, and for the next two or three hours, where your only care in the world was trying not to break an ankle.
Over the years Starburst added more attractions to the rink, including a money grab machine, expanded arcade and their famous Play Station. No, not the video game console, basically a giant indoor jungle gym.
Starburst continued to be a destination through the 90's and into the early 2000's. They closed up shop permanently in 2005. The building was knocked down and a Gold's Gym was built in its space. Today the gym still operates as a Vent Fitness.
Ice Skating In Michigan