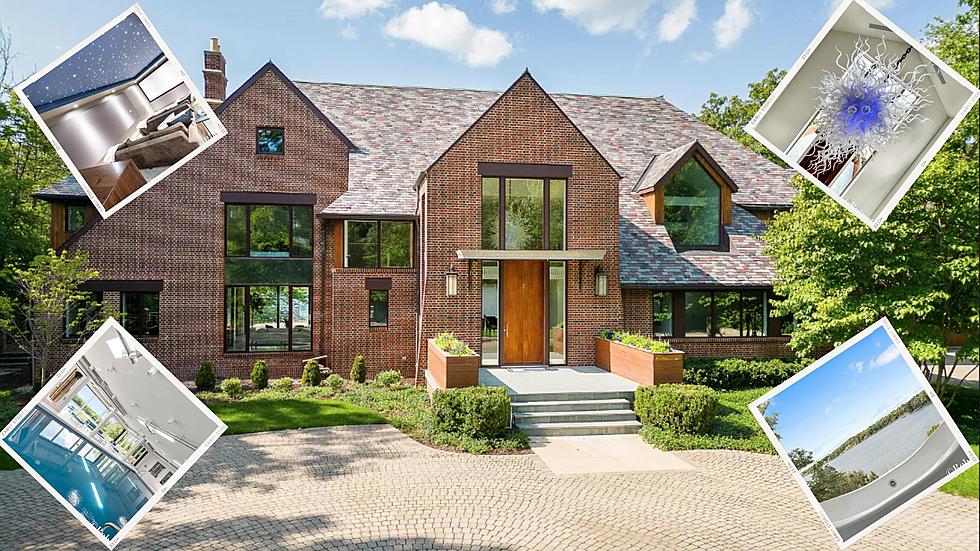 Kent County Record Breaking Reeds Lake Mansion For Sale
Robert A Antonini Coldwell Banker AJS Zillow
Living in Michigan there are tons of people who are blessed with the opportunity to live on a lake, some are even granted private beach access along with their home and land. These homes are often rented out to others during certain times of the year to generate revenue for the homeowners and provide an experience to the renters. Some people live in their homes year-round and enjoy all the amenities.
This home on Reeds Lake in Kent County, Michigan is no stranger to being in the limelight. The home was once for sale before and at the time was the most expensive listing ever in Kent County. Well, this time this home will break its record as it's hitting the market at a whopping $8.6 million. What makes this house so special?
This home is absolutely LOADED with everything that you could need. There's a boathouse, indoor and outdoor batting cages, indoor pool, wine cellar, TVs, pool table, home gym, foosball table, fireplaces, up-to-date appliances, and so much more. I'm not saying I would spend $8.6 million on this Zillow home, but I see why it's priced so high.
<iframe src="https://www.facebook.com/plugins/post.php?href=https%3A%2F%2Fwww.facebook.com%2Fcrainsgrandrapids%2Fposts%2Fpfbid02pLRLoLhmiNvANTb6UZRXy44ka4BPYKcaQwrmqAJ6VGhooNzzeGX7Ue5J9PjcVB19l&show_text=true&width=500" width="500" height="250" style="border:none;overflow:hidden" scrolling="no" frameborder="0" allowfullscreen="true" allow="autoplay; clipboard-write; encrypted-media; picture-in-picture; web-share"></iframe>
Let's take a look at this magnificent mansion below:
Fully Loaded Kent County Reeds Lake Mansion Worth $8.6 Million
This home on Reeds Lake used to be owned by a Doctor that has been on the market multiple times. Tons of amenities litter the home and the surrounding land that is attached. This lakefront home would be fun for the entire family plus some!
When Michigan Hospitals Looked Like Mansions
Former Piston Jonas Jerebko's $4 Million Mansion
This stunning mansion in Rochester has actually been owned by two former members of the Detroit Pistons.
Ben Gordon, who played for the team from 2009 to 2012 sold it to Jonas Jerebko in 2016. Jerebko has attempted to sell it a few times over the years with no luck.
It's on the market again, this time for just under $4 million.