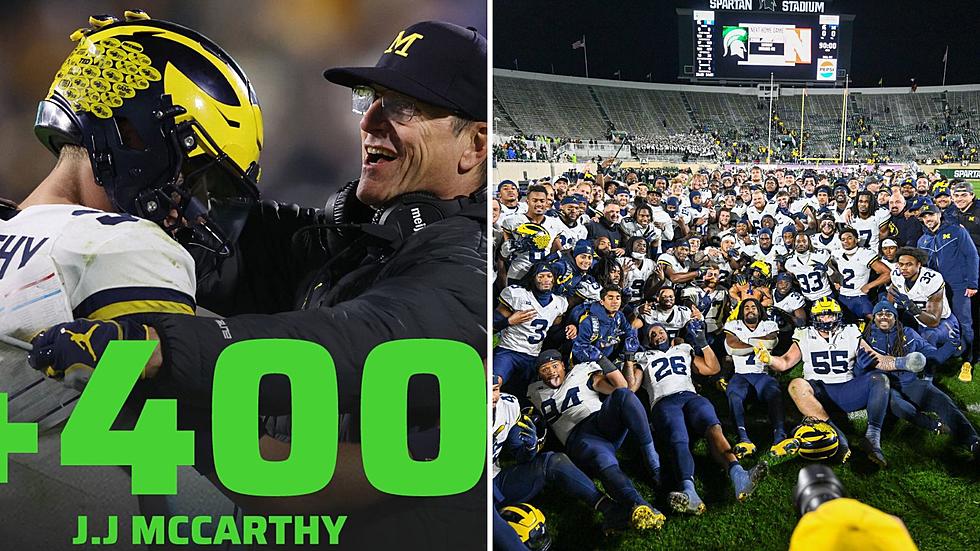 Michigan JJ McCarthy Atop Heisman & CFP Odds
Canva/Savage_CFB Twitter/ DKSportsbook Twitter
The University of Michigan is known as one of the best if not the best public universities in the world, but they are also known for some of their athletic success. Thier basketball team has been on the biggest stage multiple times but has yet to hoist the trophy, the hockey team has won many national titles, and some other teams have made wave across the country, but none are more known than the football program.
The football team has several national championships, is consistently ranked inside of the top 10, and signs some of the top recruits every year. This has been the identity of this team and campus for a very long time, because those who stay will be champions. This doesn't reign true for all who have worn the Maize and Blue, but this current team is looking to make that a reality as they steamroll their competition. The newest odds seem to agree with their mindset.
After a 49-0 thrashing of their in-state rivals the Michigan State University Spartans, the Wolverines are starting to get some of the respect that many feel they deserve and should've gotten a while ago. So far this season Michigan is outscoring opponents 107-0 in 3rd quarters and have held opponents scoreless in 24 of 32 total quarters. If that's not pure dominance than I don't know what is.
Finally, after 8 weeks the rest of the country is starting to acknowledge just how good the Wolverines are. Many people complain that Michigan hasn't played any good competition yet but when you're beating everyone by 30+ points it doesn't matter who they are its impressive. Before this week the odds for individual trophy winners and for CFP winners weren't in Michigan's favor.
The biggest thing to remember is that the odds fluctuate on different betting vendors, so some may have these winners at different odds like you see in the tweets above or they may not even have these two as favorites for the respective trophies so by no means is this information for certain, but it does show how well JJ McCarthy and the Wolverines are playing.
Every Michigan Player in the NFL in 2023
The University of Michigan had 38 players suit up for opening week of the 2023 NFL season, 5th most of any program in the country.
Gallery Credit: Jacob Harrison
4 Reasons Why Michigan State Won't Hire Urban Meyer
He's the no-doubt, guaranteed-to-be-a-home-run pick, but there's no way MSU will hire Urban Meyer as its next head coach. And it's not because he didn't fire an assistant coach accused of domestic violence fast enough, or due to his getting caught at a bar in a compromising position with a woman less than half his age.