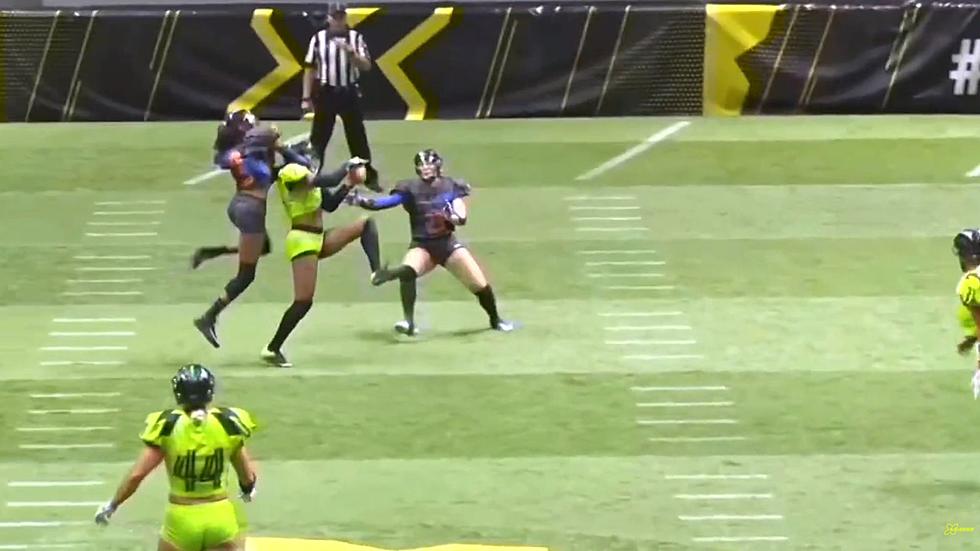 Why Doesn't Michigan Have A Lingerie Football League Team?
X League YouTube
Growing up as a young teenage boy during the late 2000s and into the early 2010s, sports were arguably at an all-time high and had most of my attention. I mean the NBA was going through dynasties while Lebron was creating his name, the NFL was in the midst of the Tom Brady era, and even sports like Slamball were alive and well as they were even getting TV time.
One of those sports leagues that got TV time then but doesn't anymore is the Lingerie Football League. I can remember thumbing through channels back in the day and stopping on a game as MTV held the rights, I instantly fell in love. Watching women play football with full force was insane but watching on tv is as close as I could get. That's still the case now as the league still exists.
It's confusing as to why Michigan doesn't have a team that competes in what is now known as the X League. Even after two name changes and global expansion the state of Michigan still can't get a team. I took a look at the current teams and tried to dispel every reason that goes against the mitten state receiving a team.
Weather
I would love to say that weather is a problem but realistically that's just asinine to believe. As the other 3 NFC North areas have teams (Minnesota, Chicago, and Green Bay), PLUS there are like 5 or 6 teams that play their home games in Canada.
Interest
First off, football is the most popular sport in the state and I would argue is the sport that the state is second best at. Also, it's women playing football, there's food, and there's adult beverages involved, so I don't know too many men(and some women) that wouldn't enjoy that. So I don't think that selling tickets and filling seats would be a problem.
Talent
I know that there may always seem like there's a lack of talent but realistically I don't know too many women that wouldn't want to sign up to put on pads and be able to tackle other women. Women are just as aggressive as men and love the game of football so why not?
Arena
Now, this is the only one that stumped me a little bit. With the league being an indoor league that factors into where the games can be played. Now before they demolished the Pontiac Silverdome we could've used that but now we're kind of stuck using Ford Field. I'm not sure that would hold up so what are other options?
Well, a city could take on the project and find a way to bring some revenue to their city, or for a place like Kalamazoo to use its new arena to adopt a team.
All in all, there aren't any reasons why we shouldn't have a team other than an arena or the lack thereof. If you have no clue what I'm talking about or have never seen a game before, check out the video below.
4 Big Ten Football Realignment Possibilities
The NCAA now allows conferences to choose their own way of determining conference championship game representatives. In light of that, and reports that the league is considering other structural and scheduling changes, we've come up with four distinct realignment possibilities for the Big Ten in football.
College Football Video Game Covers
The 37 Wins LSU Football Had To Vacate
Due to a
player that was ruled ineligible
years after the games were played, the LSU Football program had to vacate 37 wins. Here are the games that they have now retroactively dropped wins from.