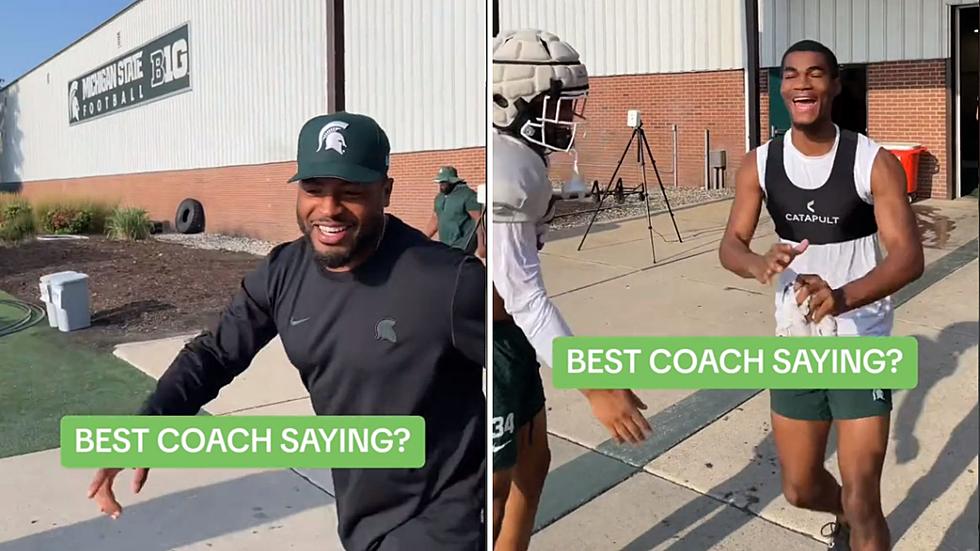 MSU Football Players Share the Coaches' Favorite Phrases
michiganstatefootball TikTok
Playing sports is about more than just winning games and championships, it's about more than the bragging rights and the highlights, it's really about the connections and memories you make with coaches, teammates, trainers, and more. This doesn't stop at the college level, although there is a heightened focus on winning, the desire to bond may be higher as well.
One of the ways that athletes bond with each other the most is by mocking coaches and cracking jokes about the phrases they say and the way they say them. Every coach has their sayings that no other coach says and it makes them stand out, but it's also what makes each coach memorable to those players. The Michigan State University Football coaching staff has already made these connections.
A TikTok video posted by the Michigan State Football account shows a series of players from the team jogging out in their shells(shoulder pads and helmets, shorts, and cleats as well) preparing for practice and asking them a very simple question. "What's your favorite quote from a coach?"
The best part about this video is that there were a number of answers given and almost every coach on their coaching staff was named. There also were some phrases in there that we all have heard before and there are even some in there that we use all the time. Either way, all I heard in this video is that some of us are being raised exactly the same.
Some of the notable phrases are:
It's all fun and games- Coach Mel Tucker, this one was mentioned a TON.
Eat a Pb & J, eat a sandwich- Mel Tucker.
Plant, step, step- unspecified coach.
What is this man???- Coach Hog.
Ball security is job security- unspecified coach.
I am dead serious- unspecified coach
Get your hands insideeeeee- Coach Gilmore.
It don't get you till it gets you- Coach Barnett.
and many more, but I can't lie I might start using that "it don't get you till it gets you" line cause man that's fire. We're there any phrases you had already heard before in your life? Any that made you go "Ooo that was a good one, I'm going to start using that"?
Michigan State 2023 Football Schedule
The 2023 football schedule for the Michigan State Spartans
7 Hot Takes On Michigan State Moving Its Home Game Versus Penn State Away From Spartan Stadium To Ford Field In Detroit
There's a whole hell of a lot to hate about Michigan State's choice to give away a home game and move its contest with Penn State to Ford Field in Detroit, but we've distilled it all down to seven solid gripes.
21 Notable Michigan State University Alumni You May Recognize
Check out 21 notable alumni from Michigan State University throughout the years. So much great talent has walked through the doors.