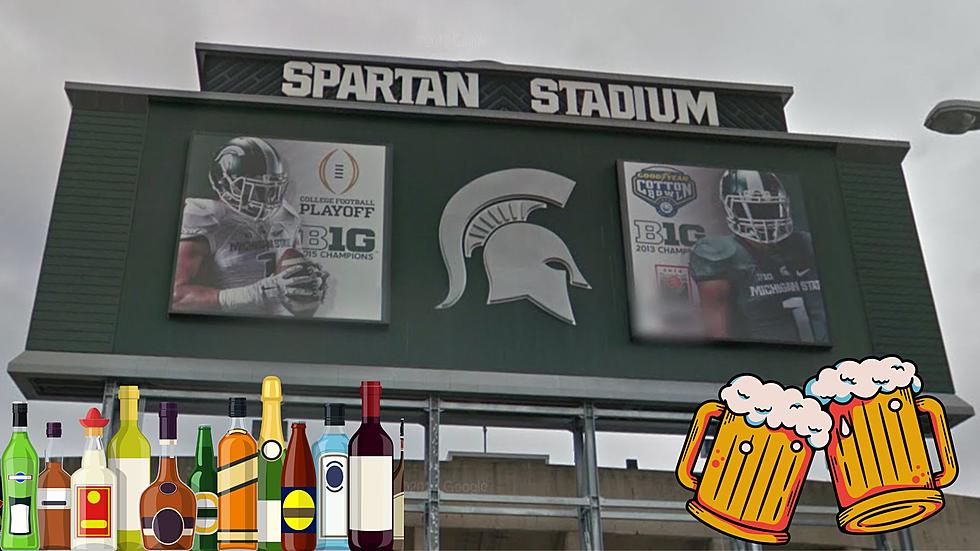 Spartans Serving Alcohol at Michigan State Sporting Events
Google Streetview/Canva
As college sports continue to sit at the top of the American culture and often draw large crowds out to games, both state governments and institutions have continuously found ways to better the experience. Lots of colleges and Universities are noticing both the good and bad things that occur at their events and it's their job to make changes to ensure a good time that's also safe for everyone.
One of the major happenings to pay attention to is the consumption of alcohol before, during, and after sporting events. This has often led to many incidents occurring on several campuses across the country. As Michigan has many colleges this is something that hit home as Governor Whitmer signed a bill allowing for alcohol to be sold at college sporting events.
I know this seems ironic right? Why wouldn't they want to reduce the amount of alcohol that can be bought or consumed if they were worried about the safety issues that are caused? That's the common sense answer but the inverse actually has great results around the country.
As other schools and states across the country have accepted the idea and followed the correct terms and lawful conditions they have seen a decline of 30% or more of alcohol-related incidents. The idea is that since people will be able to purchase alcohol within the stadium they will drink less before the game which will cut down on binge drinking and other altercations.
Michigan State University( MSU) is just the latest to join the party and I'm sure the University of Michigan won't be far behind, especially with their recent success in recent years. MSU has received licenses to serve alcoholic beverages at Spartan Stadium, Breslin Student Events Center, Munn Ice Arena, and Old College Field (DeMartin Soccer Stadium, Secchia Stadium, and McLane Baseball Stadium).
This will allow them to sell alcohol as early as 1 hour before the game and as late as 30 minutes before the event ends. They are not allowed to sell from 2 am-7 am on any given day and must obtain a permit to sell spirits or other drinks from 12 pm- 2 pm on Sundays. Buckle up Spartan fans the season is going to be wild.
Michigan State Basketball's Potential Rotation For 2023-2024
The return of two senior leaders, who are utilizing an extra year of eligibility afforded them by the COVID-19 pandemic, combined with the arrival of four highly touted freshmen, has Michigan State thinking big for the 2023-2024 college basketball season.
21 Notable Michigan State University Alumni You May Recognize
Check out 21 notable alumni from Michigan State University throughout the years. So much great talent has walked through the doors.