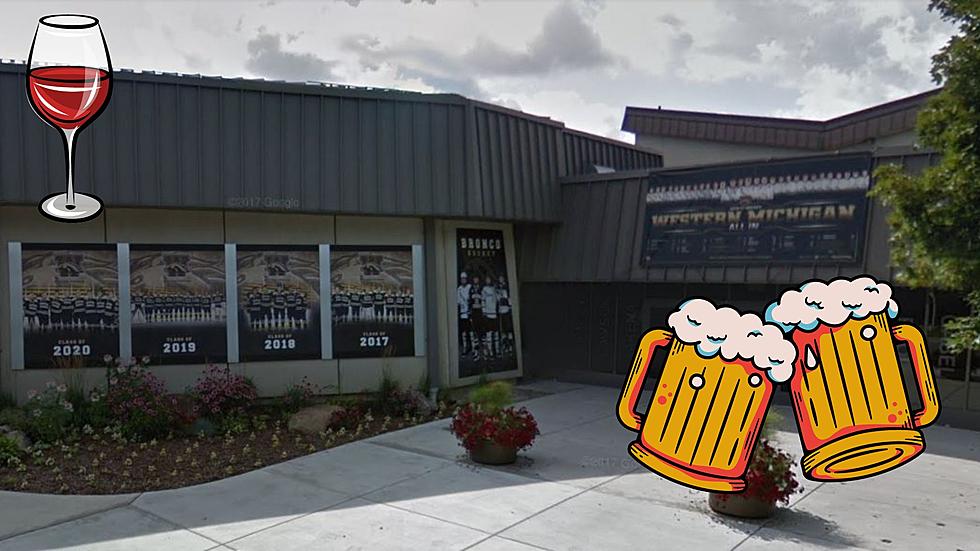 WMU's Lawson Arena Approved For Alcohol Sales
Google Streetview/Canva
I finally decided to stop being so boring and made my way to Waldo Stadium for the Broncos football game against the Chippewas from Central Michigan. This was a great game as Western Michigan was able to pull out the 10-point victory, the student section was great, and there were drink options. No, I'm not talking Gatorade, pop, water, or hot chocolate, but I'm talking beer and other craft drinks.
Back in the summer before the 2023-24 school year and sports seasons began, Governor Whitmer and the State of Michigan passed laws that would allow for Colleges and Universities to apply for permits to sell alcohol at sporting events on their institution's property. Many schools jumped right on the opportunity but Western decided to test things out at Waldo Stadium before incorporating anything other sports venues. I would say things are going well considering a new venue has been added to the list.
Lawson Ice Arena was already a hectic place to be on the weekends when the puck dropped but now that place is bound to be absolute bedlam. The student section has been dubbed the Lawson Lunatics due to their crazy antics and now I would expect those antics to rise up a notch as the means in which you can enjoy the contest have now changed.
Within the last few weeks, WMU has been in talks with local and state governments to handle all the necessary paperwork and acquire the permits to sell alcoholic beverages inside of Lawson Arena as the hockey season begins. They will have beer and wine available to purchase for those who are of age and have their ID verified at the wristband booth.
They have already generated well over $30,000 in gross revenue at Waldo Stadium from alcohol sales, have seen a slight decrease in binge drinking both at the stadium and before, and to my knowledge have yet to have any altercations with an overly intoxicated individual. I feel bad for visiting hockey teams because playing in Lawson Arena was already hard but now it just got 10 times harder.
The 10 Commandments To Being A WMU Bronco
These are 10 things that are a MUST do on the Campus and surrounding areas of Western Michigan University
Gallery Credit: Google Streetview/Canva
11 Celebrities Who Attended Western Michigan University
Gallery Credit: Brad Carpenter