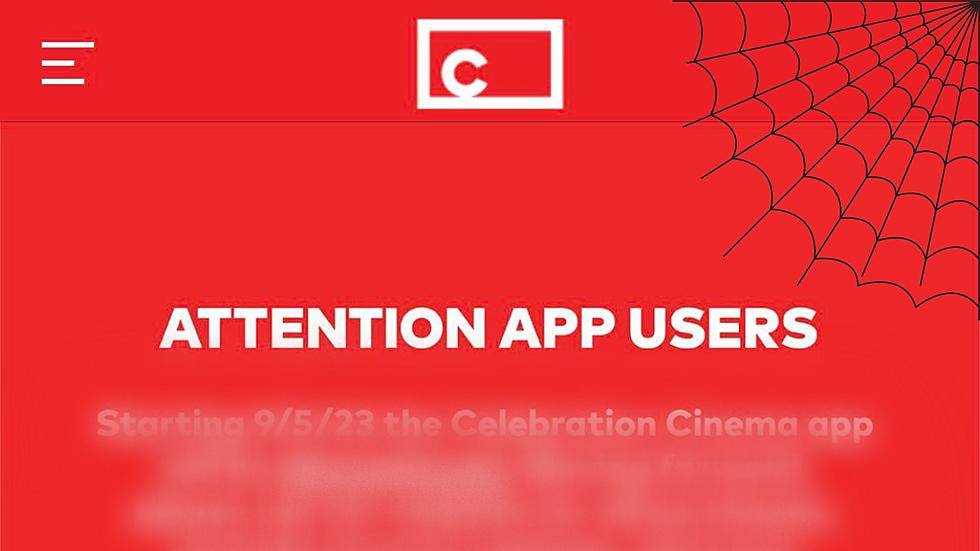 Celebration Cinema is Apparently Abandoning Their Mobile App
Celebration Cinema App/Canva
The dominant Movie Theater chain in southwest Michigan just happens to be Celebration Cinema, and until recently, it's been a great experience booking tickets for showings, and even reserving my refreshments before I even walk in the door.
But now, in a largely digital environment, with nearly every person on the planet doing everything through their mobile device... Celebration Cinemas says "NO," and will buck the system, abandoning their app.
The notification came recently on the brand's app, and has since disappeared:
"Starting 9/5/23 the Celebration Cinema app will be discontinued. Moving forward, please use our website for all purchases, rewards account settings, and more.
Unfortunately, I found out about the change too late after the announcement was made, but sure enough, when looking up showtimes on the app for the Portage location, it only shows one movie, "The Super Mario Bros. Movie," with what I can only assume are incorrect times.
Furthermore, when I attempted to book a ticket, it gave me a failure message.
No reason for abandoning the app has been given, only that they will be moving entirely online with their digital business. The good thing is, though, all rewards points still exist in your accounts, which you can still access through the brand's website when looking up showtimes. But to need a computer or laptop to book your movie tickets now is quite frustrating.
Of course, given the alternative of not having any digital access at all, this is still preferable. But sure is disheartening.
But I will say this... in a world where every SINGLE entity can say "There's an app for that," Celebration Cinema dares to be different. Good luck with that.
Things Not Found in Michigan Movie Theaters Anymore
Abandoned Star Movie Theater in Taylor, MI
The abandoned Star Movie Theater in Taylor, Michigan originally opened in 1989. When it first opened there were 8 screens and 3,000 seats. It was renamed the Spotlight Theater in 2010 but by 2012 they were closed.