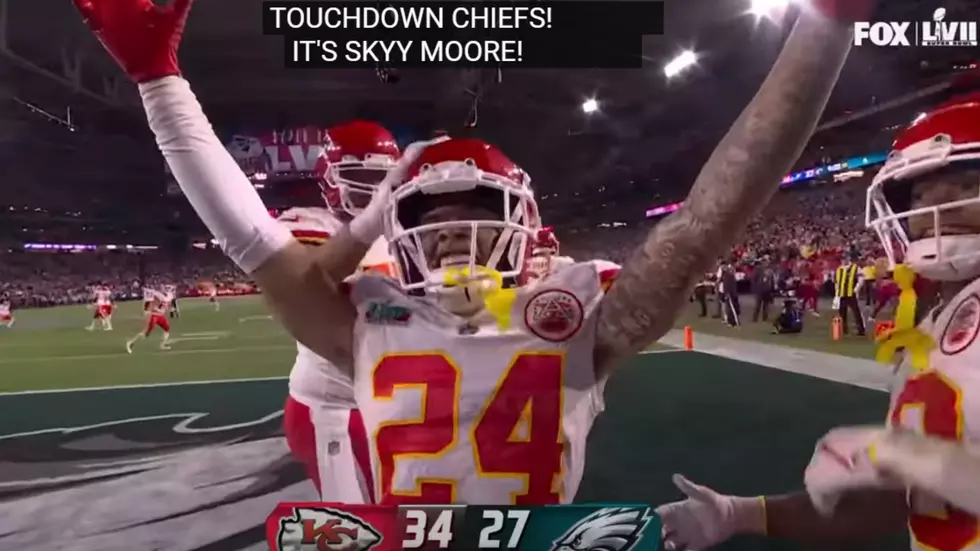 WMU Alumnus Scores Final Chiefs Touchdown in Super Bowl Win
NFL YouTube
The Super Bowl is definitely a stage where statements are made and to score your first career touchdown on the biggest stage in football says a lot about the potential for one's career. This was the reality of one wide receiver we know very well as he wore brown and gold just a year ago.
Skyy Moore, a 4-year wide receiver and graduate of the Western Michigan University Broncos was the 54th overall pick in the 2022 NFL Draft, which is a second-round pick. He was drafted by the Kansas City Chiefs, a team expected to be a championship contender. On Sunday, Moore and the Chiefs showed that they were more than contenders.
The Chiefs were locked in a tough battle throughout the entire game as they went back and forth with the Philadelphia Eagles. The Eagles started the game hot scoring on their first drive before Kansas City was able to respond quickly. The Eagles led by 10 at halftime and that's when things changed.
First off, Rihanna's halftime performance was IMMACULATE, and if you don't agree, argue with your mother, not me! Coming out of the break the Chiefs found their groove as they came storming back. After scoring a touchdown and holding the Eagles to just 3 points in the 3rd quarter, the lead was just 6 heading into the final frame.
Patrick Mahomes would find newly acquired Kadarious Toney for a 5-yard touchdown to take the lead, but the most important touchdown of the day was the next one. This touchdown would give the Chiefs an 8-point lead late in the 4th quarter. This is also the touchdown scored by Moore, which you can see below.
Skyy Moore was brought in motion to the end of the line of scrimmage and then ran a simple flat route to where he was all alone. As he caught the pass there was no one within 10 yards of him as he waltzed into the endzone untouched. This would make Moore the first Bronco to score in the Super Bowl since former wide receiver Greg Jennings did against the Pittsburgh Steelers in 2011 at Super Bowl XLV.
Jennings and Moore are also the only Broncos to score touchdowns in the Super Bowl in NFL history, which makes this an elite club to be in.
The Chiefs would go on to win 38-35 after kicking a late-quarter field goal to seal the win. Skyy Moore becomes one of the few former Broncos who have Super Bowl rings, congratulations champ!
Check out these flicks taken Sunday Night!
Rihanna's 2023 Super Bowl Halftime Show Performance
See photos of Rihanna performing during the 2023 Super Bowl Halftime Show on Feb. 12, 2023.
2023 Super Bowl Celebrity Sightings
Check out stars such as Jay-Z, Jordin Sparks and more at Super Bowl 57 on Sunday, Feb. 12.