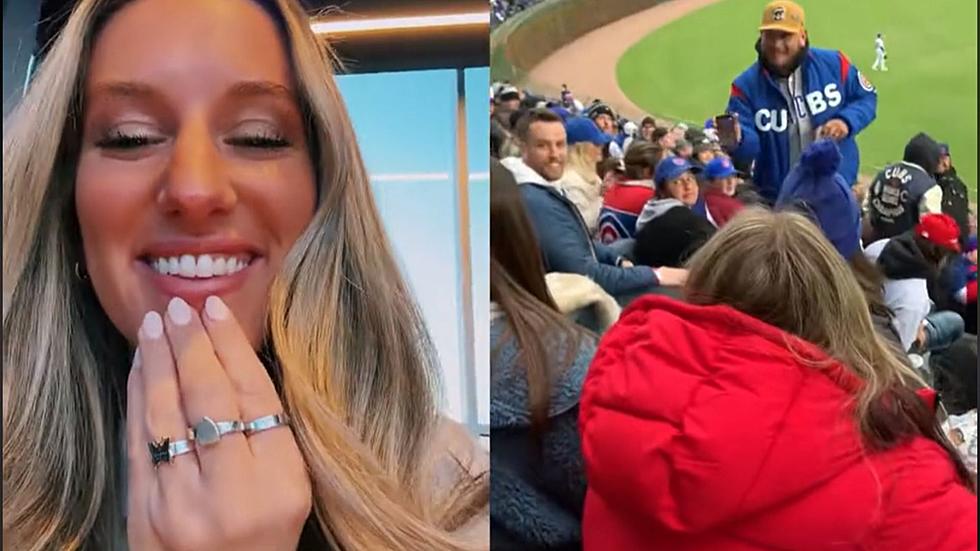 Chicago Cubs Fan Finds Love At Wrigley Field
oliviamarino__ TikTok
Going to a professional baseball game is mostly about the experience, some people have to take the car ride to the game, get some food, and then walk through the gates of the ballpark. Then they get to walk around and take in all the sights, get concessions, and find their seats. Singing the songs and interacting with those around you is one of the best parts.
Sometimes you meet some really cool people that are around you and maybe even get to see a homerun or two and your team wins the game. Other times you get to see someone in the crowd hit a home run and enjoy the game a little more than everyone else. That was the case for a number of individuals surrounding this lucky guy at the Chicago Cubs game not too long ago.
A TikTok user (@allyinchi) posted a video from the outfield bleachers that shows the unraveling of a love story. A gentleman had been sitting toward the bottom of the section when he noticed a young woman whom he found attractive sitting in his section behind him. What he did next has gotten viral attention on the social media app.
He would pull out his phone and ask for those around him to pass his phone up the line of people sitting in the bleachers all the way up to this young lady. He had opened up the contacts app on his phone and asked for her to enter her contact information, which she did.
His phone would get passed back down and he would make a call to her immediately so that she could save his number and they could begin to converse and figure out the next steps of their dating life. They are now dating and have been invited back out to Cubs games honoring them for the interaction.
10 Notable Baseball Stadiums in Michigan
Here are 10 baseball stadiums in Michigan for you to check out if you love the game of baseball or just want to have a good time.
Best Moments in Baseball Movies
Great Moments from Great Baseball Movies