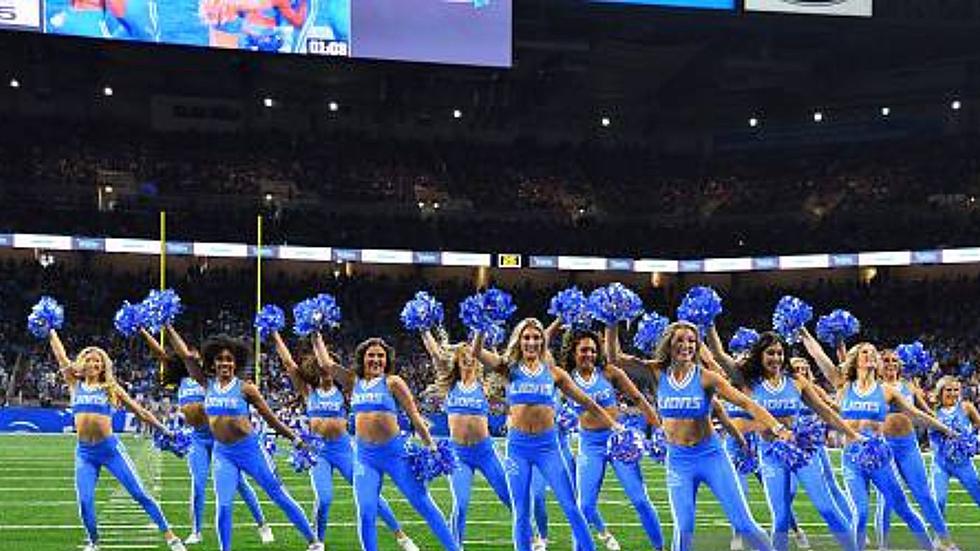 Here's Your Chance To Be A Detroit Lions Cheerleader
Icon Sportswire Getty Images
Way back in 1963, the Detroit Lions launched the first rendition of its cheerleading squad which would cheer on the team and provide entertainment for the crowd for 11 years before falling apart in 1974.
Well, in 2016 the Lions decided to bring the cheerleaders back. Upon bringing the cheerleaders back the lions named Rebecca Girard-Smoker, the former coach of the Detroit Pistons dance team as the coach.
She would be in charge of selecting, training, and overseeing the team as they are a part of the community, gameday entertainment, and even mentoring the Detroit Lions Junior cheerleaders. They have opened up auditions for the team again this year for any aspiring cheerleaders.
Registration has already opened for this year's round of auditions and you must pre-register as they will not be accepting walk-up auditions or clinic members. There is a pre-clinic on April 24th from 6-9 p.m. and has a $30 non-refundable fee. The clinic will be an opportunity to learn techniques and routines and ask questions to the team director before auditions. Auditions will be on May 7th, 8th, and May 15th at Ford Field in downtown Detroit.
Requirements
In order to qualify for this opportunity, candidates must be age 21 by July 1, 2023, with proof of identification, high school graduate, or have a G. E. D., eligible to work in the United States since the Detroit Lions do not 'sponsor' international candidates, and must sign a liability waiver and publicity release form at registration.
Prelims | Semi-finals
Supportive athletic tops, dance shorts, and tights or leggings to see the entire dance figure.
Dance sneakers or jazz dance shoes. (DLC wears dance sneakers)
Camera-ready: Full makeup and styled hair are preferred. (DLC wears hair down and fully curled on game day)
Neat and clean audition appearance
Branded attire is not required. However, Detroit Lions team branding is applicable
Finals Dance Portion
Attire is to be announced at the conclusion of preliminary auditions
Lions team branded colors are highly recommended
Interview Attire for Finalists
Audition Process
There are multiple steps to the audition process that starts with a preliminary before moving to the semi-finals, interview, finals, and ending with a final all-around look, which all involve different tasks.
The Preliminary and the semi-finals are all dance-based as there will be freestyle and choreographed portions performed in front of judges. if you are invited back for the semi-finals then you will be taught a second choreographed portion to perform for the judges.
If you make it through the first two stages then you will be given an interview time with the director before preparing for the finals which will be a freestyle portion and then a rundown of the choreographed routines from the preliminary, semi-finals, and a third one taught before the finals.
If you pass all of that you will be competing for a spot in the Detroit Lions cheerleader's training camp on May 15th at Ford Field. If you're looking for a shot at stardom then register here.
The Best Of Pro Football's Cheerleaders
Cheerleaders have been a part of the pro football scene for nearly 70 years, though not every NFL team has cheerleaders. No less than seven NFL teams don't have cheerleaders, but, most do, including the Denver Broncos. Here's a look at some of the most popular cheerleading squads in the NFL.
The Detroit Lions Throughout The Years With Collector Items
Love 'em, or hate 'em, they're still the good old Detroit Lions. Take a look back in time with some collector's items from over the years and see how the Detroit Lions have evolved over the years.