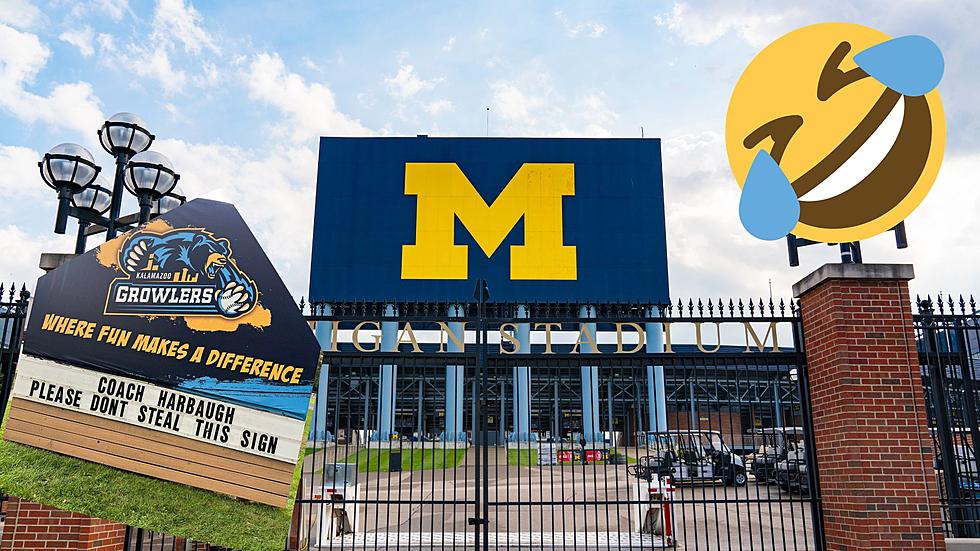 Kalamazoo Growlers Get In On The Michigan Sign Stealing Fun
Canva/ Kalamazoo Growlers Facebook
If you have been active in the sports world in the past few days then you know that the University of Michigan, their football team, and Jim Harbaugh are the names being talked about most in the sports media. It all started way back in the summer when the NCAA said they were looking into suspending Jim Harbaugh for a recruiting violation.
Harbaugh would serve a 3-game suspension to start this season, but his Wolverines took care of business and have continued to dominate in his return. Of course, many teams and fans around the country have a lot to say about Michigan's success, including some saying it's not legit. Coaches have come out and complained about Michigan stealing signs and the rest of the world has gotten involved as well.
So far there hasn't been much said about the scenario from the University of Michigan, Jim Harbaugh, or the football players as they are all awaiting the NCAA to complete its investigation. For now, their only mission is to remain focused on playing football and competing for a national championship as their fans and opponents worry about arbitrary means like the sign stealing fiasco.
Just like any other time there is an allegation swirling around the sports world there are tons of memes and opinions out on the internet, well, the Michigan sign stealing news was no different as Twitter, Facebook, and businesses alike have had a field day with Wolverines as they mock them. Even the Kalamazoo Growlers had something to say about it.
Now, to be clear the NCAA is still conducting its investigation meaning there is no clear-cut answer on what has and hasn't occurred. This means that Michigan is not guilty or innocent until we are presented with the facts that the NCAA found and the conclusion that they come to. So far there is a lot of opinion swirling around about what may or may not have been done or how big of a deal it is. I just hope that they are found innocent.
Take a Peak at U of M Coach Jim Harbaugh's Multi-Million Dollar Estate
University of Michigan's Head Football Coach Jim Harbaugh million dollar estate in California is quite the place. The estate has an 8,500-square-foot home and a guest house with five bedrooms. There are a total of eight bathrooms between them. The estate covers 1.3 acres in Atherton which is considered one of the most affluent locations in the area near Stanford University. The home just sold for $11.78M. Take a look inside.
Gallery Credit: Zillow
Why Ohio State Has No Business Being Favored Over Michigan To Win The Big Ten
Several sportsbooks have given Ohio State better odds to win the Big Ten in 2023 than the team that has systematically and thoroughly eviscerated the Buckeyes over the past two seasons. Either Vegas is all of a sudden in the business of giving away money or the oddsharks know something the rest of us don't.