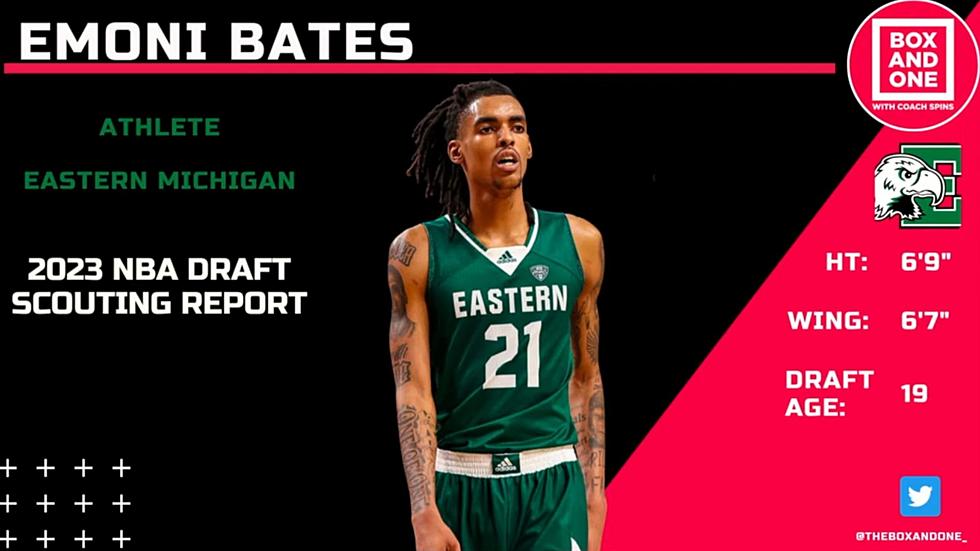 Likely NBA Draft Picks For EMU Star Emoni Bates
Adam Spinella YouTube
This past weekend, Ypsilanti Native, former University of Memphis basketball player, and current Eastern Michigan University basketball team star, Emoni Bates declared for the NBA draft. After having a bounce-back season this year for the Eagles, Bates feels his draft stock is the highest this year.
Now, as we know, college basketball players can declare in the draft and compete in the combine and drills but have until May 31st to make a decision. They can choose to remain in the draft pool and hope to hear their name called on draft night or if they aren't confident enough they can return to school for another year. Let's take a look at draft chances and the likelihood of a return to school for Emoni Bates.
Emoni Bates was the number 1 rated player in his high school draft class. Bates would have an okay season playing in the American Conference and helping the Tigers earn a spot in the NCAA tournament. They would lose early on in the tournament and Emoni would enter the transfer portal. After going through the recruitment process for the second time, he finally decided to return home and play for Eastern Michigan.
While wearing the green, white, black, and grey that make up the Eagles jersey, Bates was an absolute star as he averaged just over 19 points, about 6 rebounds, and just under 2 assists a game, including a 30-point and 5 rebounds performance on 63% shooting against the Michigan Wolverines.
After having a season like his most recent in the not-so-strong MAC conference, here are my realistic opinions on where he could end up within the next few months. My first thought is he will go through the draft process and see his skill level compared to other prospects and choose to take one more year at the NCAA level.
Although, he does have the talent to play in the NBA, how high on the draft board can he realistically get? If Bates were to stay committed to the draft and look to make his NBA dreams come true, I believe the highest he can be is a mid to late first-round pick, the worst would, unfortunately, is being undrafted.
Teams like the Indiana Pacers, Portland Trailblazers, Detroit Pistons, Charlotte Hornets or maybe even the Orlando Magic are the only teams in my opinion that would consider taking Emoni in the first round. They all could use a lanky wing who can create shots for themselves but they don't have much going for them besides that.
Bates's struggles on the defensive end are what lead me to believe that he will have trouble being drafted. Any other team that may look to take him wouldn't spend more than a mid to low second-round pick on the wingman, as he has potential but the downside is large. What do you think? Where does Emoni Bates end up?
Video of an Abandoned NBA Players Massive Dream Home in Illinois
10 Cities That Need An NBA Team
There have been rumors swirling for years that the NBA is looking to expand. The last time the league expanded, is when it added the Charlotte Bobcats back in 2004.
Now, as we often do every offseason, we're wondering where the NBA would add a team if it were to expand? Would it be a brand new market? Add an additional team to a large market? Or bring a team back to an old market?
Let's look at the most likely possibilities, and cities that deserve an NBA team!
LOOK: Inside Current NBA All Star/Chicago Bulls Players Massive 4-Story Condo
The home
is located in Chicago's Lincoln Park and is believed to belong to Chicago Bull's center Nikola Vučević.