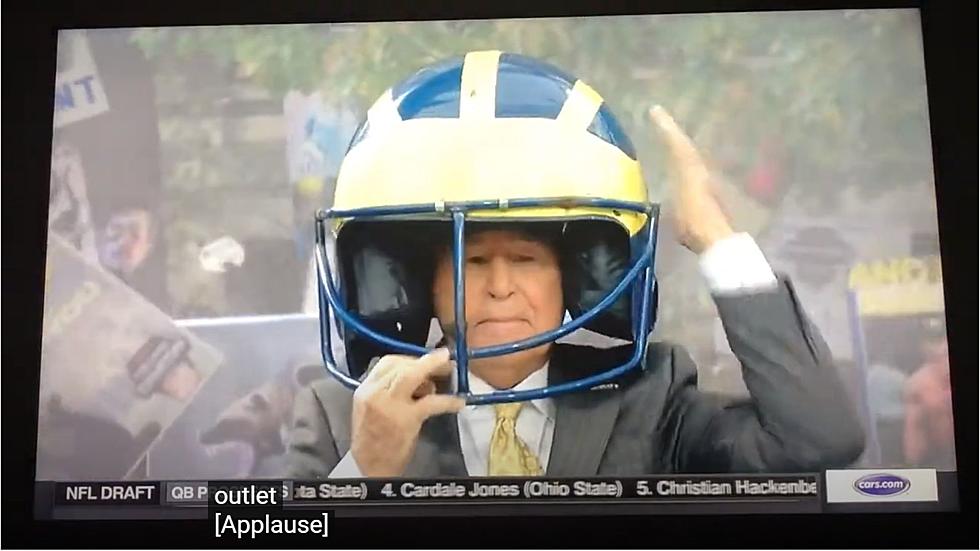 Why Doesn't College Gameday Come To Michigan More?
GamedayCole YouTube
Saturday mornings have always been a primetime television slot as most people don't have responsibilities to handle and after sleeping in to catch up from the week they are looking to relax. Children want to watch cartoons, some like to watch their "stories", and others are looking to catch up on sports.
Most college football is played on Saturdays with the earliest games starting at noon and the latest games kicking off around 8 pm. To prepare for those games people get together for tailgates, watch parties, and more. In 1993/1994, sports fans were introduced to ESPN's College Gameday. Since then, they have only been to the state of Michigan a handful of times.
College Gameday is where a group of analysts get together and break down the weekend's games and what they could mean for the immediate strandings and even how they may affect standings down the road. There is even a picks segment where Lee Corso puts on a giant mascot head.
Since 1995 the Michigan Wolverines have appeared on College Gameday 36 times making for the 5th most featured team, while Michigan State has 16 appearances ranking them somewhere around between 25th-40th. While Western Michigan has only appeared once. They have each hosted and been on the road for these games and their win-loss record varies.
Michigan State has hosted ESPN's College gameday 8 times, their first appearance was in 1997 and they were the host. Their win-loss record in College Gameday appearances is 9-7 as they have just above a  50% chance of winning when being the highlight game on the show.
Meanwhile, Michigan who has been highlighted on the show many more times than the Spartans hasn't been as lucky. The Wolverines have hosted the College Gameday crew 12 times and hold an overall win-loss record of 16-20 in these games. Lastly, the Broncos are 1-0 in their only appearance as they hosted University at Buffalo in their undefeated season during 2016.
In total Michigan colleges have hosted 21 of their 53 College Gameday appearances and have an overall record of  26-27, giving the state about a 50/50 chance to win these games.
I believe that they don't come here more because Michigan doesn't have a large mascot head for Lee Corso to wear. I'm also okay with them not coming so often considering the Wolverines don't have a winning record when they appear on the show.
The 53 Greatest Michigan-Born Players in NFL History
Super Bowl champions, record holders and Hall of Famers. Michigan has given the NFL some elite talent.
2023 NFL Draft Selections From Michigan-Based Universities
10 States With Most NFL Players Per Capita
Which states produce the most NFL talent per capita? The top 10 list has a few big surprises.